The Tallest Christmas Trees
Brazil town where size matters erects tallest Xmas tree

Itu, a tiny Brazilian town with a short name but big affection for grandeur, claims it has built the world's tallest artificial Christmas tree, which joins its collection of out-sized attractions.
"We are going to be in the Guinness Book of records. We told them and they are interested," said Adelino de Castro, one of the organisers of this private initiative in the town of 150,000 residents in the interior of Sao Paulo state.
The official opening of the tree, erected in the parking lot of a local shopping mall, is scheduled for Saturday.
At 250-feet (78 metres) high, including a 13-foot (4 metres) red star on top, the "tree" towers above Itu, famous for its "exaggerations" and already home to a giant phone booth and enormous street light.
From the top of a thick steel mast, which serves as the trunk of the tree, one can see another town 16 miles (25.7 km) away. Cables running from the top to the base are adorned with 6,500 lightbulbs and shining plastic ribbons, which makes the 150-ton construction resemble a fir tree at night.
The height of the tree exceeds that of the present record holder, a natural 215-foot (67.4 metre) fir tree put up in Seattle in 1950, according to the Guinness book.
World's Tallest Ever Christmas Tree in the Styx Forest, Tasmania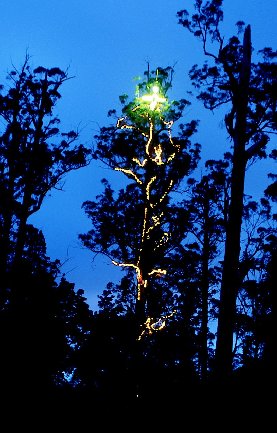 On December 20 1999 a towering Eucalyptus regnans, 80 metres (262 ft) tall, became the tallest-ever Christmas tree in the world.
With 3,000 Christmas lights, The Wilderness Society transformed this massive tree into a powerful beacon of hope for Tasmania's threatened forests. The tree is adjacent to a logging road in the valley of the Styx River. It and the surrounding forests are scheduled for destruction in the year 2000.
The Wilderness Society's Tasmanian Campaign Coordinator, Geoff Law, said the Christmas regnans would focus world attention on the plight of Tasmania's tall forests.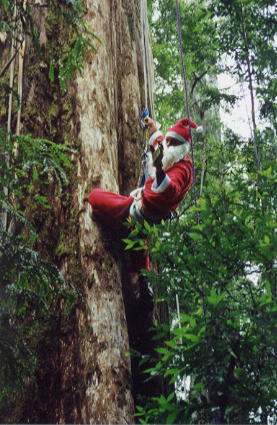 "Two hundred years of logging and clearing have reduced oldgrowth regnans to only 13% of their original extent,"Mr Law said. "Yet these giants are still being destroyed by ruthless clearcutting."
A team of climbers has spent eight days braving wind, rain and sleet to scale and decorate the tree. The regnans is now festooned with lights to be lit up on the nights of Monday to Friday this week. To add a further touch of Christmas, a light dusting of snow has fallen on the surrounding mountains.
This year's tallest Christmas tree elsewhere is in Grace, Washington, USA, and only half the height of the Tasmanian specimen at 37.2 metres (122 feet). The previous tallest Christmas tree was also in the USA in 1950. It measured 67 metres (221 feet). It was a dead tree, having been cut down and decorated in Seattle.